Kathryn Wheelbarger Joins the Institute as Rosenblatt Visiting Fellow
Kathryn Wheelbarger, Former Assistant Secretary of Defense for International Security Affairs, Joins The Washington Institute as Rosenblatt Visiting Fellow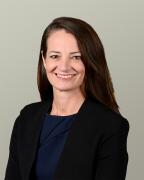 WASHINGTON, DC — Kathryn Wheelbarger, an accomplished defense and security expert with an extensive policy background in both the executive and legislative branches, has joined The Washington Institute as its Rosenblatt Visiting Fellow, the research organization has announced.
"Katie Wheelbarger brings to the Institute nearly two decades of invaluable experience at the White House, Department of Defense, the Senate Armed Services Committee, and the House Permanent Select Committee on Intelligence," Washington Institute Executive Director Robert Satloff said.
Dr. Satloff continued, "Given the array of security challenges to U.S. interests in the Middle East—as well as the region's growing role in U.S.-China and U.S.-Russia relations— Ms. Wheelbarger's analytical and prescriptive insights will enrich our work and the broader conversations on U.S. foreign and defense policy."
Ms. Wheelbarger's fellowship was made possible by a generous gift from Institute trustees Lief and Johanna Rosenblatt.
As assistant secretary of defense for international security affairs from 2018 to 2020, Ms. Wheelbarger led the creation and implementation of security and defense policies related to the Middle East as well as Europe, Russia, Africa, and the Western Hemisphere. She also crafted U.S. policy toward the North Atlantic Treaty Organization (NATO) and other international security organizations.
Previously, Ms. Wheelbarger served as the policy director and counsel on the Senate Armed Services Committee, where she coordinated policy positions and oversaw Department of Defense programs and activities across a wide spectrum of security and defense issues. She also handled the committee's intelligence portfolio for Chairman John McCain (R-AZ). Ms. Wheelbarger also served deputy staff director and senior counsel on the House Permanent Select Committee on Intelligence, where she performed budget and policy reviews of programs within the intelligence community, led investigations, and developed policy positions for Chairman Mike Rogers (R-MI).
Prior to working in Congress, Ms. Wheelbarger served as counsel to Vice President Richard Cheney and general counsel to the vice president's 80-person staff and as counselor to Secretary Michael Chertoff and associate general counsel at the Department of Homeland Security. Before entering the Executive Branch, Ms. Wheelbarger was a litigator with two law firms and served as a judicial clerk on the Ninth Circuit Court of Appeals in Boise, Idaho.
Ms. Wheelbarger is a summa cum laude graduate of the University of California, Los Angeles and cum laude graduate of Harvard Law School.